Before device deployment check the compatible device FIRMWARE as it is very important to always use a tested FW. The FW for each device is documented on the Supported devices page. In case the device is not on the list, contact our support.
Use IR Remote control to check your FW version and navigate to Menu -> Support -> Contact Samsung. Check the line Software version and compare the value with our table of supported firmwares for your model.
Looking For Supported Samsung Tizen Displays And Firmwares?
Continue here
How to provision Tizen 6.5 via Tizen Enterprise Portal?
Continue here
Provisioning guides
Samsung Tizen (F-line, H-line, Q-line, N-line)
Check out provisioning video
1. Turn on display, go through basic settings (clocks, WiFi settings etc.), and switch source to HDMI or PC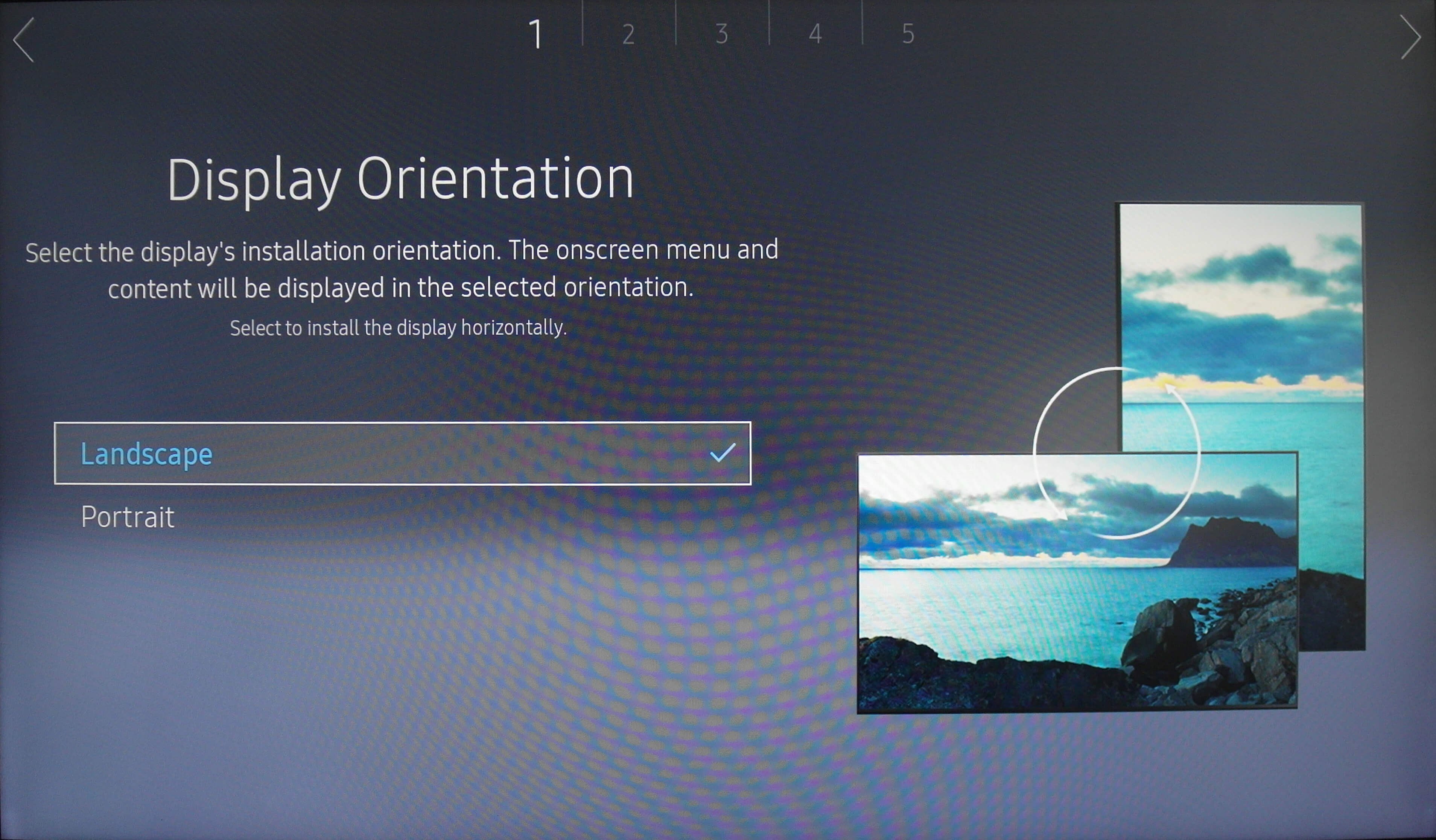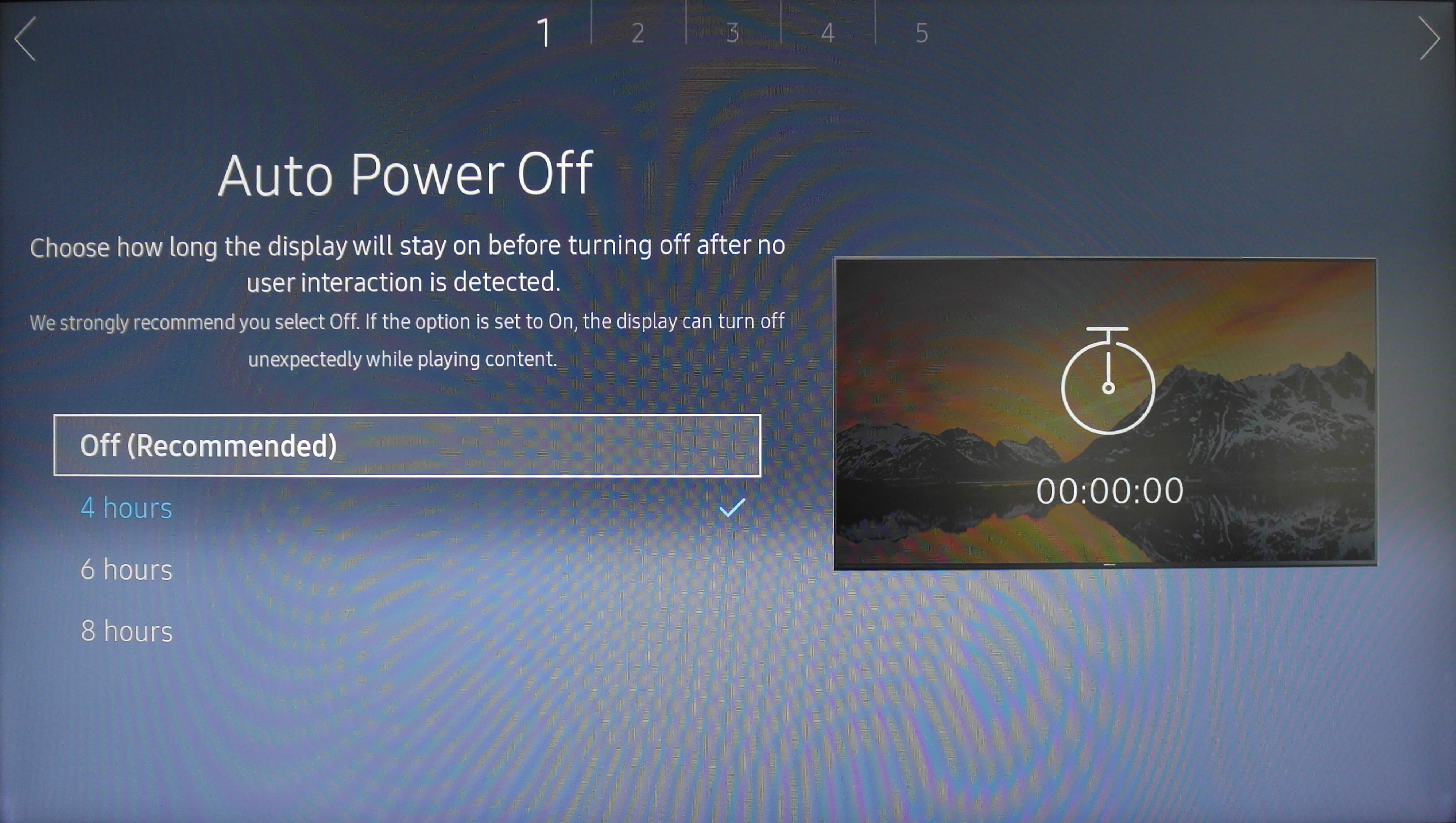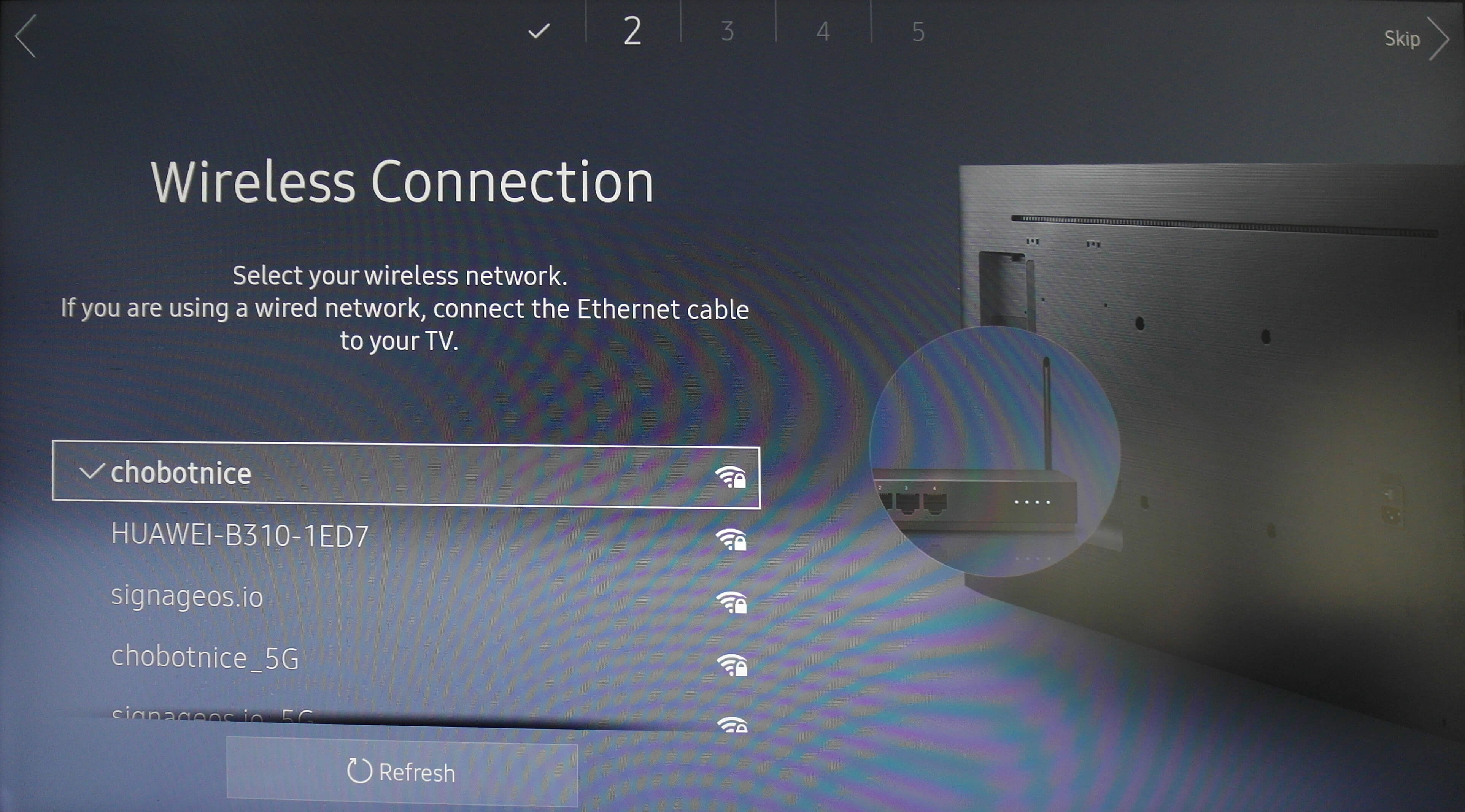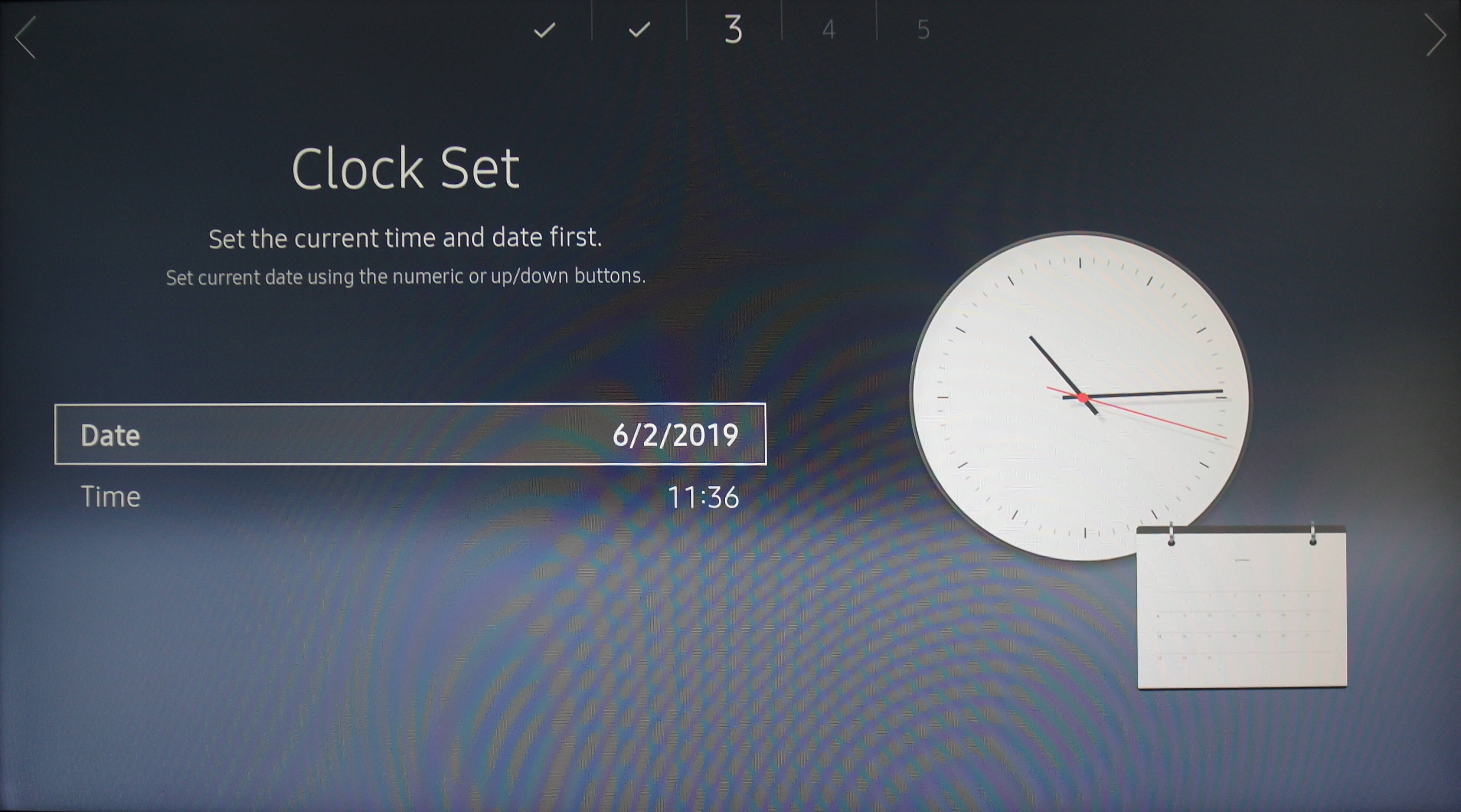 2. Check your FW version using IR Remote control
navigate to Menu -> Support -> Contact Samsung.
check the line Software version and compare the value with our table of supported firmwares for your model.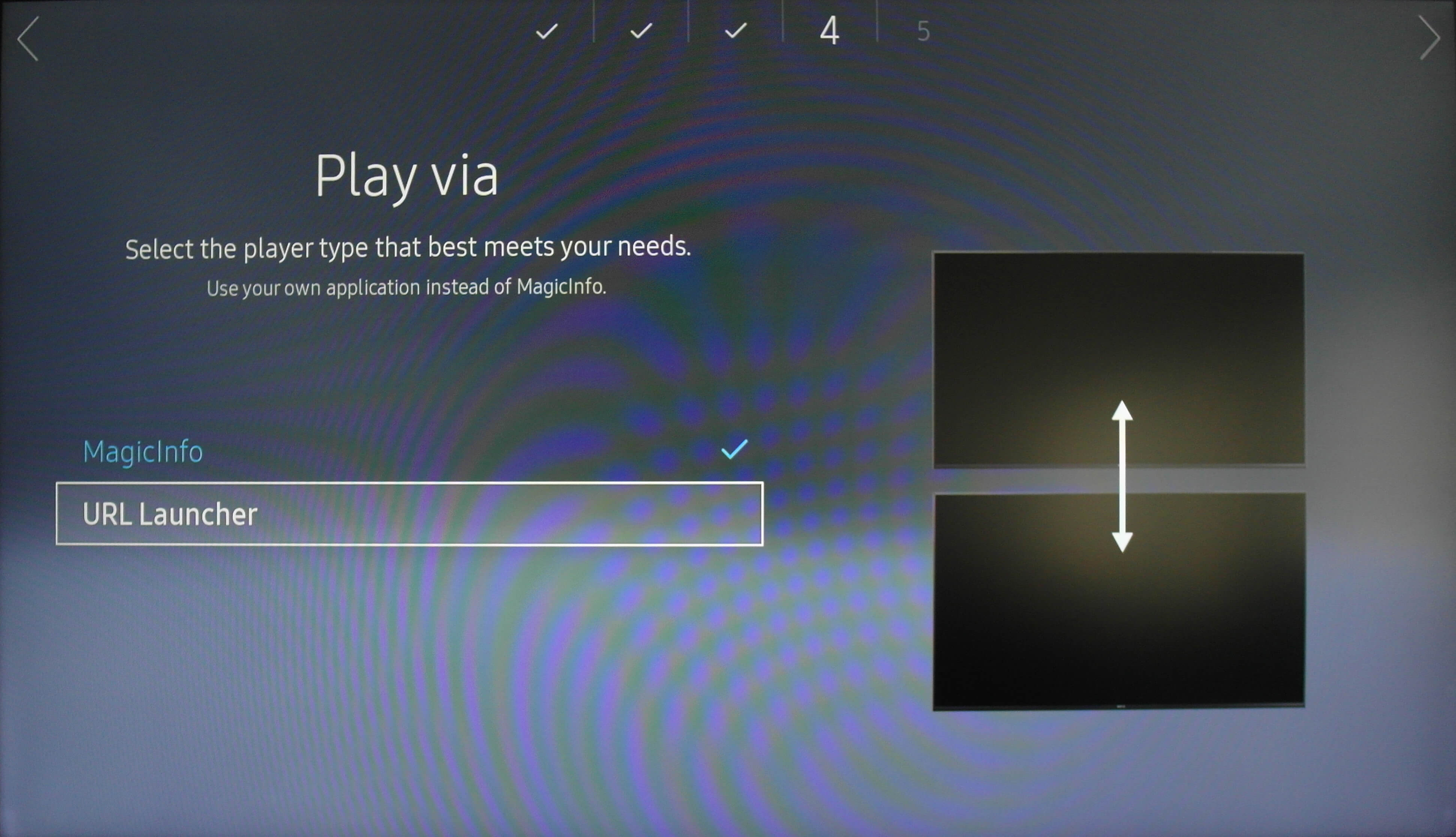 4. Select URL Launcher
5. Press HOME on IR remote control
6. Go to URL Launcher Settings -> URL address
7. Fill in the following URL and confirm:
Link to the latest Samsung Tizen Core App
https://t.signageos.io or custom URL generated on the Applet Builder page.
Custom URLs are hosted on 0099.io domain (owned by signageOS). For Tizen, select specifically if you want to use a landscape or portrait version of the generated Core App. https://0099.io/xxxx vs. https://0099.io/xxxx/portrait)
Tizen Core App link https://t.signageos.io doesn't work directly in the browser. It works just and only on the Tizen device where it looks for a specific XML file. This way Tizen devices verify the installation package.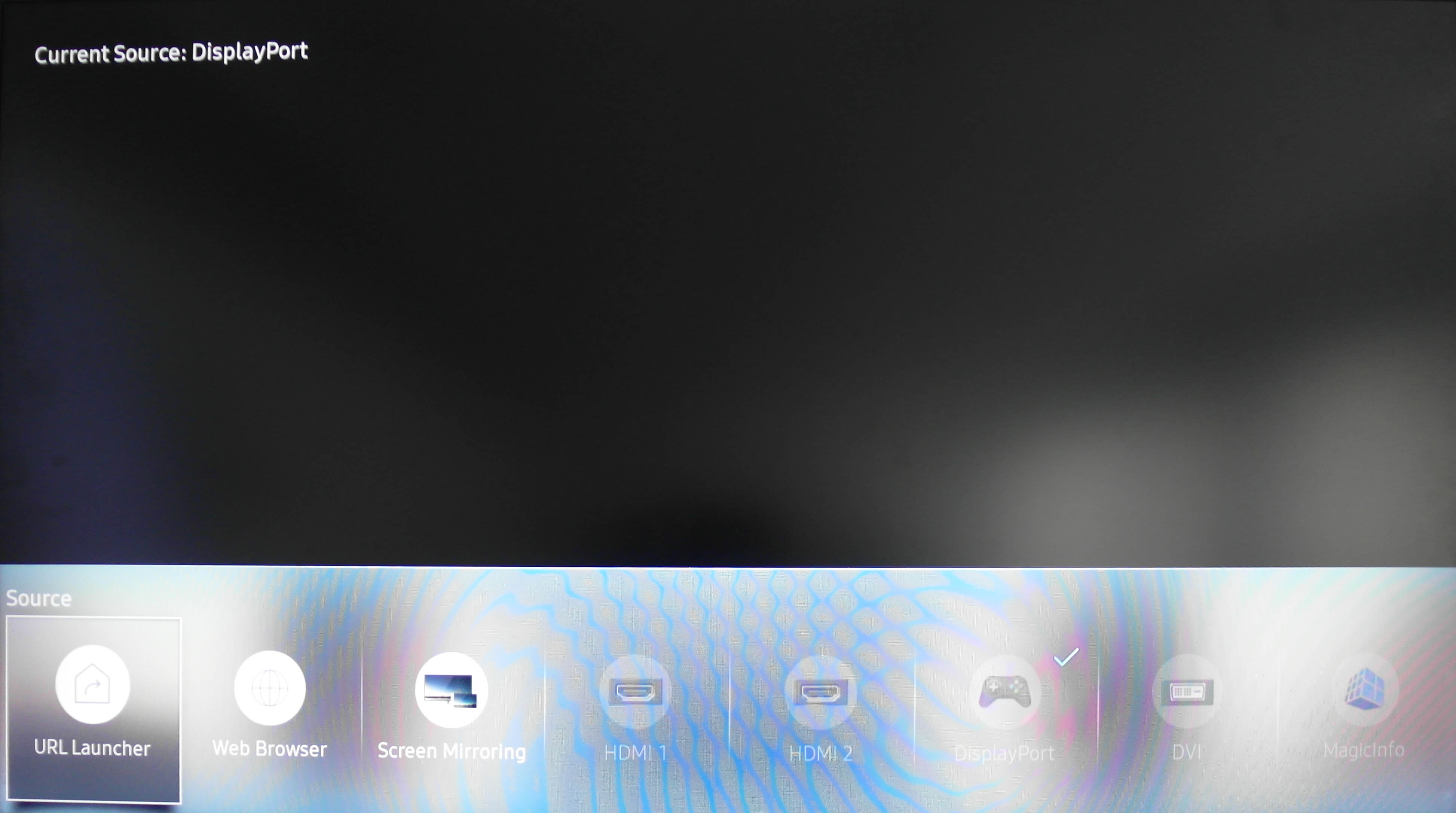 At this point, the display connects to the Internet and downloads the signageOS Core App for Tizen.
If you used the custom domain or a bundled version from domain 0099.io, you might need to perform an additional power cycle.
Samsung Tizen 6.5 (QMB, QBB)
Provisioning of newer Tizen models is very similar to the provisioning of older devices. Here are the individual steps on how to provision these and higher models.
If your signageOS application is not running after going through these steps or your device has previous settings already implemented, we recommend performing a full Factory Reset before continuing with these steps.
Steps on how to perform a full Factory Reset on your device can be found in an article here - Samsung Factory Reset
Quick tip - to perform factory reset power off your display and press MUTE-1-8-2-power on in sequence to bring up OS menu
Rest of this guide assumes you are provisioning a new/freshly reseted device.
Step 1
Firstly device must be correctly setup. These steps highlight the important steps during the initial setup of the device after the first power on.
Setup your connection and ensure that your display has connection to the internet. Majority of displays supports both Wired and Wi-Fi connection, but it might depend on your specific device model.
Step 2
Reading and accepting privacy agreement of Smart Signage is at your own discretion and will not affect the functionality of sOS software.
Installation Type should be selected for Basic Setup.
Step 3
Select your Display Orientation. For our demonstrative purposes we will choose Landscape. Next step is Player Selection - select Custom App option.
You will be prompted to input URL to download the Custom App. In this step please input the following address for the signageOS Core App:
https://t.signageos.io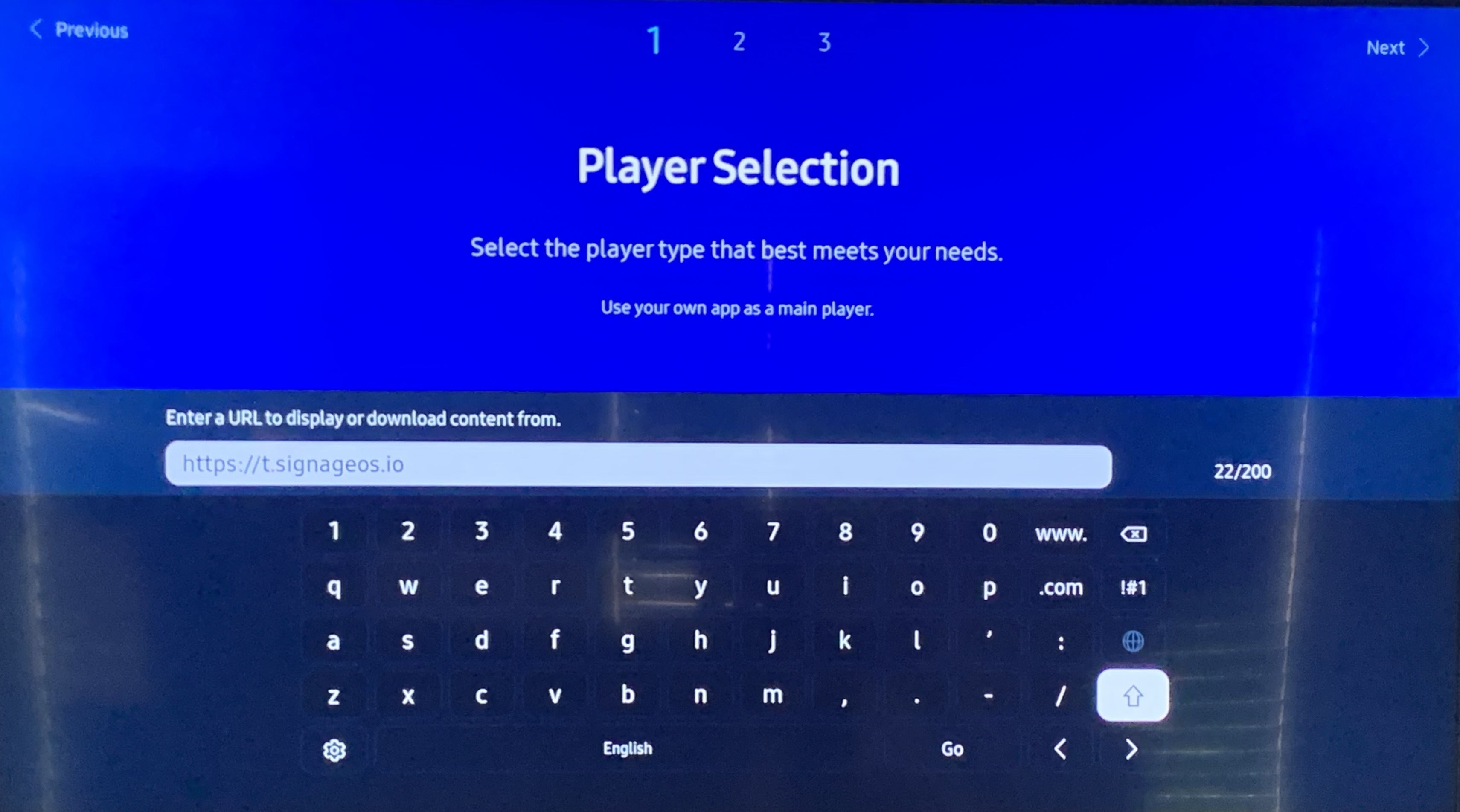 Step 4
After inputting and confirming the address you will be asked about Connection to RM Server, this step can either be skipped or setup depending on your needs. Followed by Auto Power Off - For this step make sure Off is selected to prevent your display turning off after not being interacted with for a certain period of time.
Step 5
You will be prompted to set Date & Time during your initial setup. Make sure that Date & Time are set up correctly for your current location. These can be later adjusted through remote management in Box or REST API as necessary.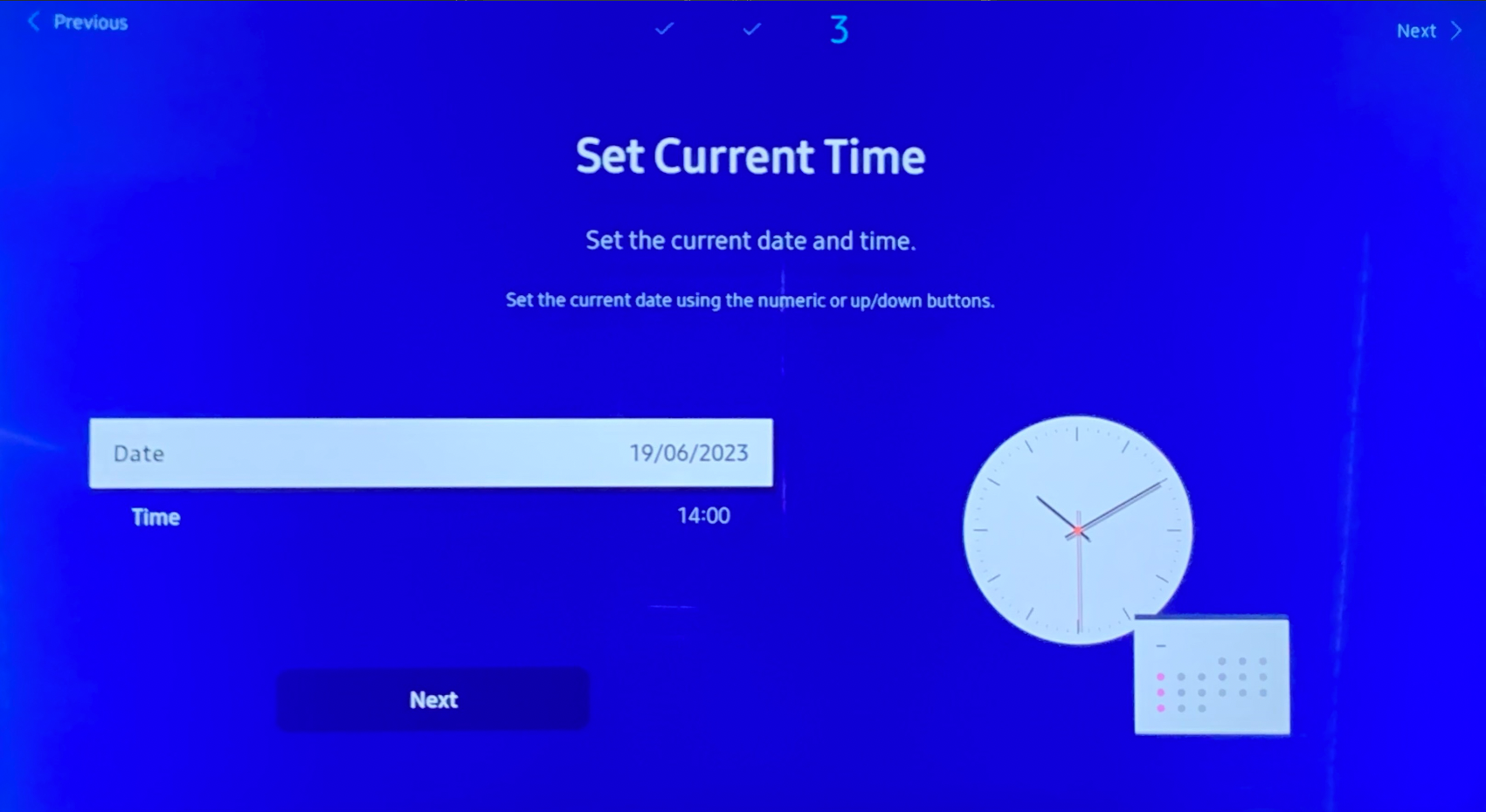 For later changes you can navigate to Menu -> System -> Time and make any necessary adjustments.
Step 6
If you followed all the steps in this guide your initial setup should be finished. You will be prompted what source should be used to display content on your device. Select Custom App and signageOS should download and start playing.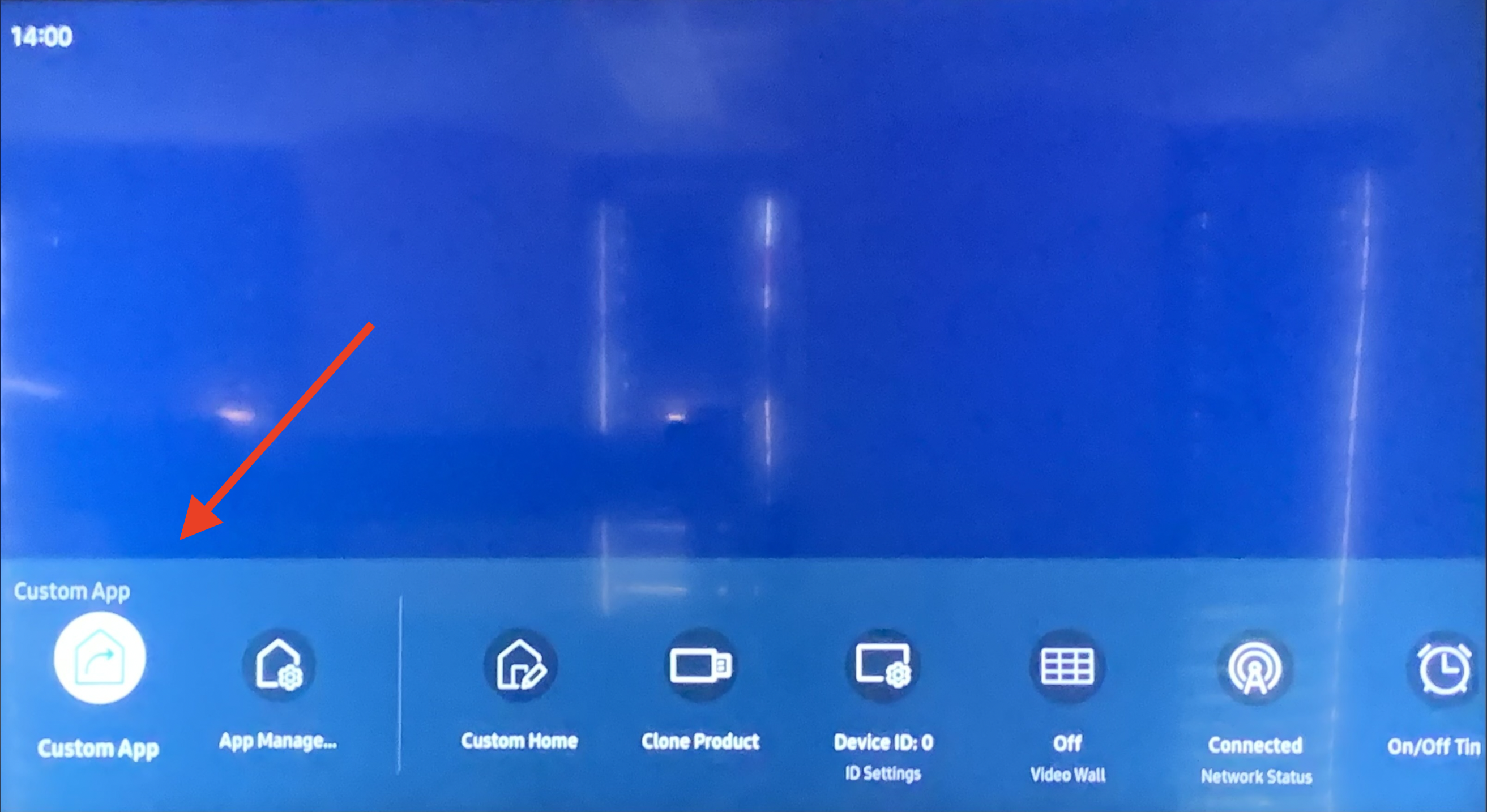 Samsung Tizen 7.0 (QBC, QHC, QMC)
Switch display to HDMI (press Source button and select HDMI)
Open HOME menu (press HOME on the IR Remote control)
Navigate to Features section and select AppManagement icon (if you see "This function is not available", you did not switch to HDMI. Repeat step 1.)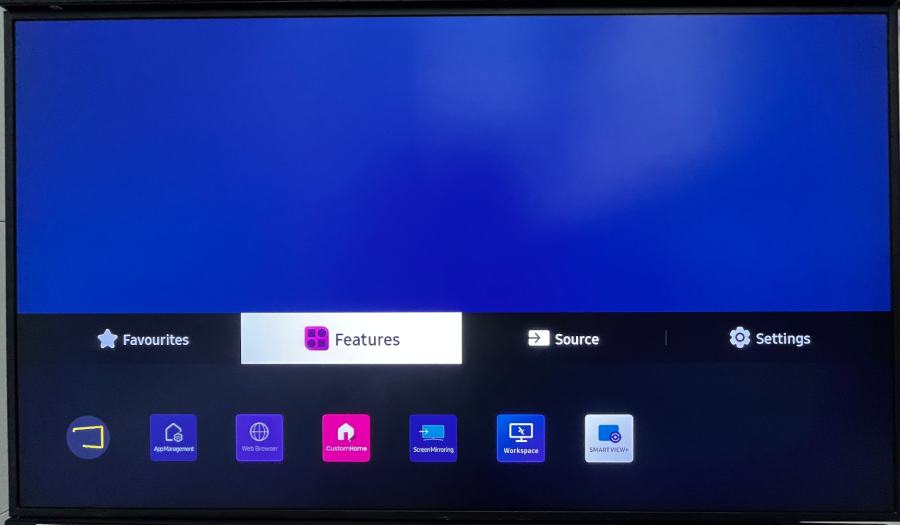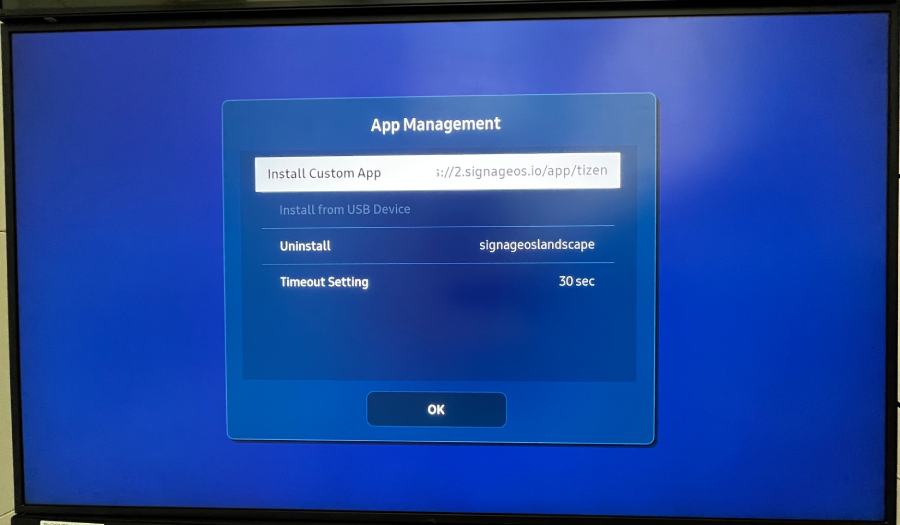 You will be prompted to input the URL to download the Custom App. In this step please input the following address for the signageOS Core App:
https://t.signageos.io

alternatively, use the Deployment app built by Smart builder:
https://0099.io/xxxYYY
Confirm and reboot the display
Next steps
Pro: Connect Tizen to signageOS RM server for an additional set of remotely available features
Continue here
Common troubleshooting
Q: My Standalone application is not found on my static server?
A: Make sure you have sssp_config.xml in the directory as well.
The standalone application can't be downloaded directly from the browser/url but it works only on the display.

Q: Link for installation/update is not working, an error "Unable to download" occurs when trying to access the update links.
A: The Tizen app on its own can NOT be downloaded. The link URL has to be used from within the Tizen URL launcher itself. In case of the link does not work inside the display, meaning not downloading the app at all, please add a "/" symbol (trailing slash) at the end of the URL.
Tizen inconsistently requires this sign without any indication at all. If you are using a URL with a trailing slash, try to remove it.
Lastly, if you are still experiencing issues with downloading the app to your Tizen device, check the correct date and time on the display.

Q: The Tizen device can't download the application core app. There is an error displayed: Unable to connect to the server. Please try again later
A: If the core app file can't be downloaded with the following error message, please double-check the Time and Date in the device settings. These parameters need to be set properly in order to update/install application on the Tizen device.