Introduction
Alert Rules help you define under which conditions you will be alerted on a variety of events happening with your devices. The most obvious Alert Rule is "Alert me if any of my devices is offline for more than 15 minutes", but Alert Rules are designed for even more complex situations and networks.
Active
The active alert rules show currently enabled notification alerts. Users can access each alert rule set up menu by simply clicking its name.
Paused
Alert can be snoozed by clicking

under Active Alerts tab and restored by clicking

under Paused Alerts tab.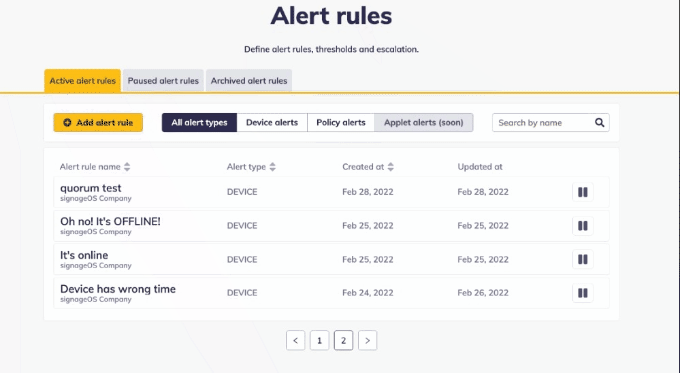 Archived
Once you archive an Alert Rule it stays archived as a historical record of the device.
How to add or edit the alert rule?
Press "+ Add Alert Rule" or click the alert rule name on the active alert rules tab to open the detailed menu allowing customizing the alert rule to the user's needs.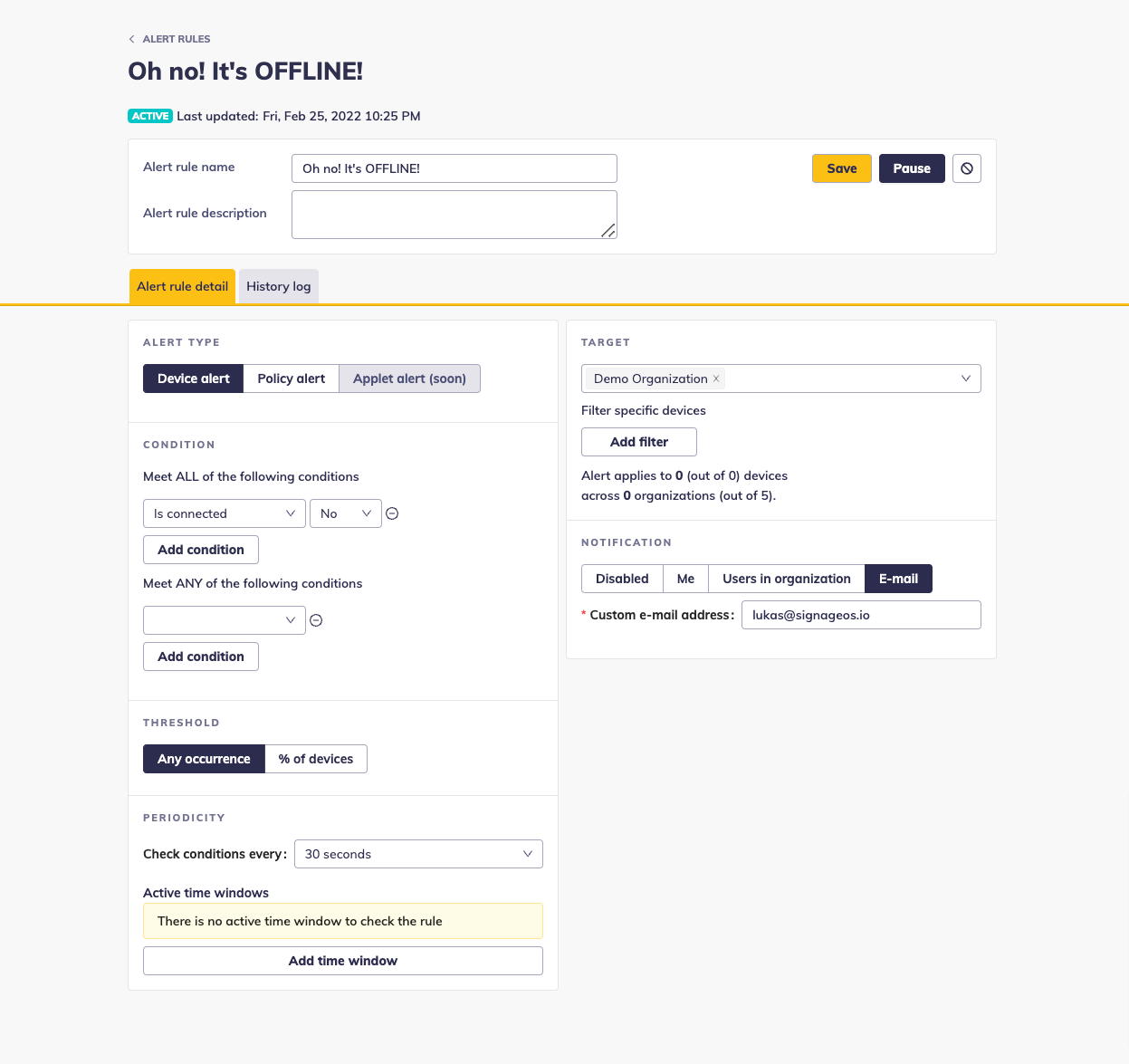 Types of Alert Rules

There are three main types of Alert Rules defining events that can be used for triggering an alert:
Device Alerts
Triggered based on device status, e.g. Online/Offline, Incorrect Time, Storage, and more
Policy Alerts
Triggered based on violation of defined Device Policy
Applet Alerts
(Coming Soon)
Setting up Alert Rules
Conditions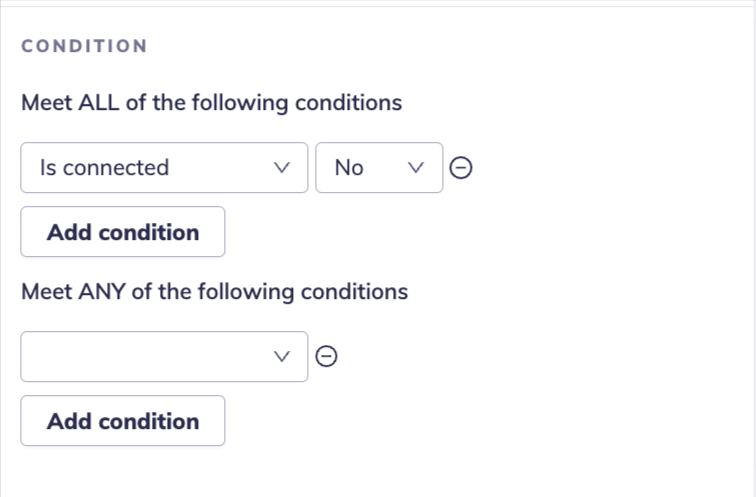 The user defines under what circumstances the alert is supposed to be triggered. There are the following conditions to be chosen from :
Incorrect time on the device

The device is offline for more than the time determined in the alert rule

PIN code is set up on the device

Battery capacity is lower than the determined in the alert rule

Extended management inability

Volume level

Brightness level

Remote control lock information
Application version
The temperature of the device
Has package
Debug enabled information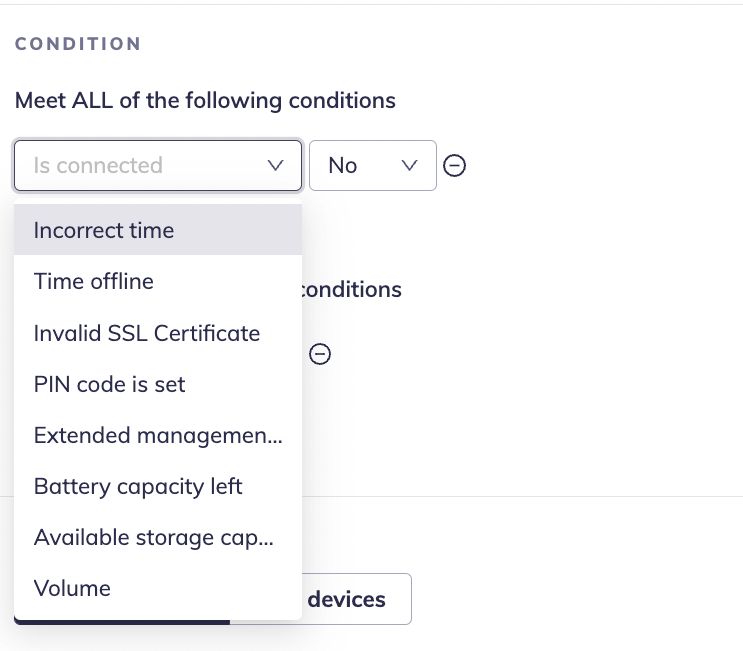 All of the conditions can be combined and set up according to the user's needs.
The threshold for affected devices
Alert Rule can be triggered based on a defined threshold, avoiding false-positive false-negative alerts. You can define if you want to be notified about:
Any occurrence

Alert Rule is triggered immediately as a single device matches the Rule condition

% of devices

Alert Rule is triggered if X number of devices matches the Rule condition, where X is defined as % of all devices in the selected Organization

Periodicity of an alert
Defines how often is the Alert Rule checked. Users can define the time slot when the alert is active.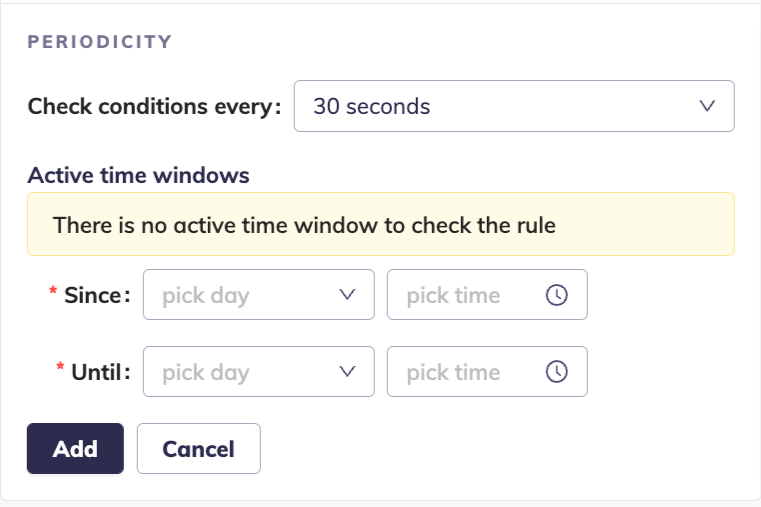 Target
Alert Rule can be set Company-wide or only for a selected Organization. Moreover, you can limit the Rule to only selected platforms (e.g.: Tizen, webOS, Android,...)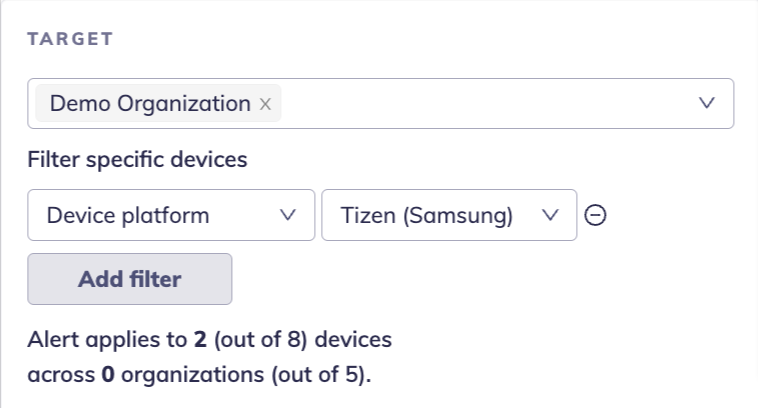 Notifications
Once the Alert Rule is triggered, you can be notified in several ways:
Disabled

No notifications will be sent

Me

Notification will be delivered only to your Alert section

Users in organization

All users in the Organization from where the Device triggered the Rule will get a notification in the Alert section

Email

An email notification is sent to a defined email address